Carpet Laying & Repairs
High-quality carpet installation, repairs, patching and restretching with no stress or hassles.
Book Now
About Our Carpet Laying & Repairs Services
Carpets & Critters can supply and install new carpets to rooms of any shape and size. From synthetics to luxury wool fibres to second-hand carpets, our expert team can lay it with no stress or inconvenience for you. We also offer carpet repairs, patching and restretching services, saving you the need to spend thousands on replacing your carpets entirely.
Can You Supply & Install Carpets?
Yes, we offer a large selection of high-quality carpets that we distribute directly to our clients. From economic synthetic polypropylene and polyester carpets to high end wool fibre and solution dyed nylons, we can supply and lay the best carpet to meet your budget and requirements. We can also install second-hand carpets. Call us for a free, no-obligation quote.
What Is Carpet Re-stretching?
Carpet re-stretching removes wrinkles, ripples and lumps from carpets that have loosened over time due to poor installation or wear and tear. We can effectively bring new life into your carpets preventing premature replacement.
When Should I Repair Or Replace?
Carpet doesn't always wear evenly, and accidents can happen – but it doesn't necessarily mean you need to replace everything. We can patch and repair damaged, torn and worn areas as a more cost-effective and sustainable choice for improving the appearance of your carpet.
Rips, tears & bulging carpet
Burns
Pet damage
Mould and rot
Wear
Fraying seams
Re -stretching
Why Choose Carpets & Critters For Your Carpet Laying & Repairs?
Carpets & Critters customers receive nothing short of first-class quality and customer service. Whether you need your whole house re-carpeted or a stained carpet repaired, we will get the job done to the highest standard. We offer professional carpet laying, patching & repairing services in Whakatane at affordable prices, often lower than supplier-recommended fitters!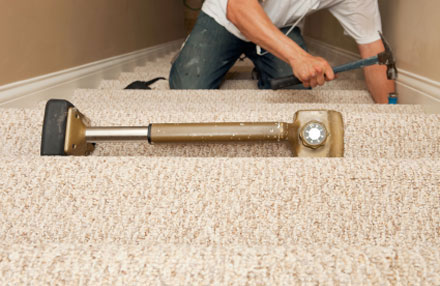 Why Do You Need Professional Carpet Laying & Repairs?
Of course, it's possible to DIY carpet repairs and installations, but it really is best left to professionals. This is why:
Professionals have access to specialty tools, equipment and products that you may have trouble sourcing otherwise
A professional will be able to tell whether a carpet can be repaired, patched or be replaced completely
Professional carpet laying is typically faster than doing it yourself
A professional knows how to mitigate any hiccups or errors like rippling or lifting
Working with a professional means less stress and hassle for you overall
Carpet laying & Repairing Services
If your carpet is beyond suitable repair, we can provide you with a measure and quote to replace the carpet in your home. We supply and lay quality brands of broadloom carpet and can help you choose the best flooring for the needs of your interior spaces.
From Single rooms to whole house lots. We offer a comprehensive service including uplift and disposal, floor preparation, supply and installation, rug binding and more.
Are your carpets too good to throw away? Have you acquired some antique English Axminister carpet? Have you found a bargain online? We offer second-hand carpet installation, offering a sustainable & affordable carpeting option.
Commercial Carpet Installations
We offer a range of high-quality commercial carpeting options for apartments, offices, hotels & retail stores. Including conventional broadloom, direct stick commercial carpets, carpet tiles & garage carpets. We can offer a range of quality options to improve your commercial space meeting your budget and requirements.
If you have lifted your carpets during a recent renovation or a flood, we can help reinstall it for you. We stock a large range of underlay and trim bars allowing us to effectively reinstate your carpets back to there original condition.
Using a closely matching piece of carpet, we can successfully remove and repair small areas of damage to create a virtually invisible patch. This is ideal for areas affected by damage such as burns, rot, pet damage or significant wear.
Carpet stretches, loses tension and ripples over time, causing visible ridges and potential tripping hazards. Before you consider replacing it, we can re-stretch it instead, giving you more life out of otherwise suitable carpet.
Get in touch with Carpets & Critters for the best carpet laying & repairs in Eastern Bay of Plenty.